Woot
Updated: 16 min 5 sec ago
A great way to replace that broken laptop you've been hanging onto for some reason.
Hi thr! I'm Phil Bobstin and I'm typing to you on my old brokn laptop with no functioning button btwn th lttr w and th lttr r. It is hard to fully put my situation into words du to how many words contain this vital lttr which I must always work around. But I'm changing today! I'm moving to a cool Lnovo Yoga! So plas don't dspair. Nxt tim you and I spakl, it will b asy to convrs about any subjct you can think of.
Our boss said we had to write a press release about the new free shipping benefits for Amazon Prime members, so we did. Then our boss said we had to put it up on the website, so we did. Now our boss says we have to get the story published by the New York Times. We're still working on that one...
Behold, the greatest press release ever issued:
WOOT! WOOT! – FREE SHIPPING FOR AMAZON PRIME MEMBERS ON WOOT.COM
Ridiculously good deals, silly jokes, monkey mischief, and now FREE shipping for Prime Members!
"THE BIG D" – Feb. 22, 2018 — Woot!, the site that brings you ridiculously good deals on stuff that you need and stuff that you didn't even KNOW you needed (but totally do, let's be honest), announced today that Amazon Prime members will now get FREE shipping on Woot.com. YEP. YOU'RE WELCOME. All members need to do is log in with their Amazon account by going to woot.com/prime and PRESTO!
"Ooh, ooh, ohh, this is a HUGE deal," exclaimed Woot!'s monkey mascot, Mortimer. "I mean, I'm a paid spokesperson for Woot!, so I'm supposed to be excited, but this actually really IS exciting!" The news was met with equal enthusiasm and similar responses from fellow monkey mascot Monte, and the incredibly handsome Woot! CEO John Alteio, if he does say so himself. And he does.
Part of the fun of shopping on Woot! is that you'll never know what you'll find. As the original daily deals site, Woot! sells everything and anything, from pizza beach balls and dinosaur bottle openers to top-of-the-line items like Dyson vacuums, Lenovo ThinkPads, Black + Decker tools, Kitchen Aid Mixers and Beats wireless headphones. Amazing, you say? Yeah, we know. Oh, and we're also the home of daily monkey chats, silly product write-ups, and time-wasting polls. We love a good joke as much as we love a great deal.
But wait, there's more! From time to time, you may be one of the lucky ones to score a "Bag of Crap" on the site. A bag of what? Yeah, you heard that right: Bags of Crap (or BOCs, as Woot! calls 'em). A BOC is a random collection of stuff that Woot! shoves into a box and sends to you. Wooters have received a single shoe, rubber duckies, a giant metal rooster, brand new headphones, shirts, and even the occasional laptop. You'll never know when they'll appear on site, and you never know what you'll get! We just want to make our crap, your crap, so when you see it, get it! I mean, we can't believe we're still writing. This is a no-brainer.
Oh, another thing we almost forgot, limited-time deals are offered every day on Woot.com. You can find some of the best treasure featured daily across seven categories including home & kitchen, electronics, computers, tools & garden, sports & outdoors, original t-shirts and even gourmet food. Whaaaaat? That's a lot. Wooters should check back daily to beat out others and to get the best, coolest stuff. Be a Wooter. You know ya wanna.
So now, on top of unlimited shipping, shopping and entertainment designed to make your life a little easier, all while shopping on Amazon, Prime members can also get free shipping while shopping on Woot.com! Not a member? Start a 30-day free trial of Amazon Prime at amazon.com/prime.
Woot! Woot! Free shipping for Prime members on Woot.com. To learn more, go to woot.com/prime.
# # #
About Woot!
Ok, this is serious because it's a boilerplate, so no jokes here. Starting…NOW. Woot! is the original daily deals site, founded in 2004 and snatched up by Amazon (NASDAQ: AMZN) in 2010. Originally, Woot! offered just one product per day until it sold out. Today, Woot! offers special daily deals and other limited-time offers across seven categories, including computers, electronics, home and sporting goods, plus original t-shirts, on Woot.com.
Shirts- the #1 thing you never want to forget to pack.
No matter where you're going- no matter the climate, itinerary, or traveling companions- you're going to want to have shirts. Every trip would be incomplete without them. Some trips would be downright impossible without them. So stock up, you don't want to be unprepared.
February means Fashion Week in New York, where style trends are born and the newest looks are big business. But what about the rest of us? What about you, a randomly chosen non-supermodel reading a short trivia piece on the Internet? What do you know about fashion? Don't get me wrong, you look great today, but there are a lot of sartorial misconceptions that make the rounds in our culture. We've asked Ken Jennings, who is well-dressed at least by the low standards of Jeopardy! contestants, to go through our closets and throw out all the wrong stuff we thought we knew about our clothes.
What Color Is Puce?
Have you heard of the Mandela Effect? It's a modern phenomenon of collective false memory, named for the (apparently not uncommon) misconception many people have that Nelson Mandela died sometime in the 1980s. In the past, when a bunch of people were wrong about a clear point of fact, we called this "being wrong." But today, many tender-hearted millennials who misremember their childhood have become convinced that their memories are unimpeachable and there must, therefore, be a paranormal explanation that will vindicate their false beliefs. Perhaps they've somehow been recently transported to this alternate reality in which Mandela died in 2013. Sounds implausible? Sure, but I dare you to prove they didn't switch universes!
There are hundreds of silly examples of parallel history for Mandela Effect believers: the "Berenstain Bears" spelling their name "e-i-n," the Monopoly mascot wearing a monocle, the comedian Sinbad playing a genie named "Shazaam." (These things never happened.) One interesting one regards the color "puce." Many people are surprised to learn that puce is, in fact, a purplish-brown color—or, in the words of Merriam-Webster's Third Unabridged, "a dark red that is yellower and less strong than cranberry." The Mandela people are convinced—convinced!—that puce was once a shade of green.
It's hard to quantify just how many people don't know what puce is, but when a Marvel Comics artist polled her Twitter followers about puce a few months ago, 57 percent wrongly thought it was a shade of green. Some Mandela folks have an elaborate conspiracy theory that involves a second color as well: they remember chartreuse (a vivid yellow-green) as being a reddish-purple color, and wonder if puce and chartreuse might have switched places in some kind of chromatic dimensional vortex. Wikipedia notes an 1811 medical journal that describes a type of tea as "puce green," but in context, it's clear that that the tea being described is green with overtones of puce. I hate to say it, but to my mind the likeliest avenue for people assuming that "puce" is a pale, pea-soupy green is the word's resemblance to "puke." But that's not how colors work! We don't just switch them to their phonetically closest bodily fluid! Puce is actually named for a different fluid entirely: it comes to us from the French couleur puce, meaning "flea-colored," probably for the dried-blood color of squished fleas. Yuck.
Quick Quiz: What famous woman wore so much puce in the summer of 1775 that the color became all the rage in Paris?
Ken Jennings is the author of eleven books, most recently his Junior Genius Guides, Because I Said So!, and Maphead. He's also the proud owner of an underwhelming Bag o' Crap. Follow him at ken-jennings.com or on Twitter as @KenJennings.
You cannot elegantly recline if you do not have elegant pillows. It's just science.
After years of testing here at Woot Labs, we have determined that the elegance of your surroundings contributes to the overall perceived elegance of your person by exactly 50%. So, even with perfectly coiffed hair, expertly tailored clothes, and snappy shoes- if you're reclined on a ratty nest of errant fluff, no one is going to describe you as elegant. The remedy? More elegant pillows. You're welcome.
Hey have you guys heard of Prime?
So there's this Amazon Prime thing, that some people use to get free ships or something nautical. And you can also watch movies on or your phone or something about drones? Listen, we don't know much about it but YOU CAN NOW GET FREE SHIPPING ON OUR SITE IF YOU LOG IN WITH WITH AMAZON PRIME HOLY CRA
AAAPPPPPPPPPP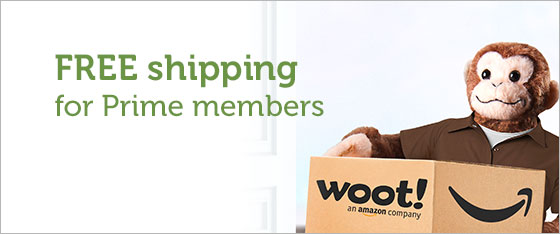 You may have already heard, but Woot! is owned by a much larger company that goes by the name of Amazon. Now, after EIGHT long years of subsidiary-ship, we want to bring some of that Amazon goodness directly to our customers.
That's why today we're very happy to announce FREE SHIPPING for Amazon Prime customers! Yes, we know it sounds pretty awesome and yes, it is as awesome as it sounds. (And yes, for you old-timers who have been asking for this for, um, eight years, thanks for waiting. This computer stuff is hard).
Here's what you'll get:
FREE Standard Shipping on Woot! orders
FREE Express Shipping on Shirt.Woot orders
The lame fine print: See individual offer pages for shipping details and restrictions. Not valid for international shipping addresses.
Want to unlock the benefits of an Amazon Prime membership on Woot!? Link your Woot! account with your Amazon account! We've even taken screenshot of how to do this, EVEN THOUGH IT IS SO FREAKIN' EASY: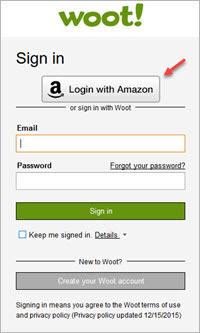 Click that fancy "Login with Amazon" button and you'll be able to [not so] magically log in using your Amazon email address and password:
When you go to your account, you'll see a new graphic next to your name:
Not an Amazon Prime member? Congrats! You're one of the 13 people left who aren't. Fix that now by signing up over at the mothership Jeff B's house Amazon. Apparently there are other benefits too!
Room for all your worldly possessions, provided you can fold them really small.
Can we talk about how the purchase limit for this sale is ten? Ten three-piece sets of luggage. WHO THE HECK NEEDS THAT MUCH LUGGAGE? What are you, the manager of a traveling all-girl marching band?
Turns the world upside down. HEY WAIT A SECOND THAT COULD BE A TV SHOW
In some topsy-turvy world there are government conspiracies, a weird monster, and a bunch of young people trying to bring the scary things to an end. In our world, there are... well, okay, you've got us there. Point for you.
Magellan himself couldn't have circumnavigated the Earth without it
Oh hello. I'm Ferdinand Magellan, welcome aboard my ship. Sometimes when I go exploring I get lost. Luckily, I use the GPS with my own namesake to keep me on track. See, it shows that I've been stranded on the same road for the past two weeks because boats don't travel well on land. Anyway, I'm Ferdinand Magellan. Can I get a lift?